Week 5
WeekEnding 11/18/00
A tremendous amount of progress was made this week so there are a lot of pictures. Please be patient.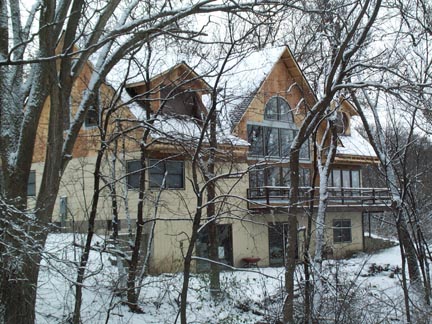 Here's a shot of the back of our home from the neighbors yard.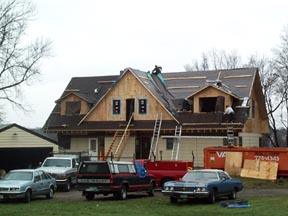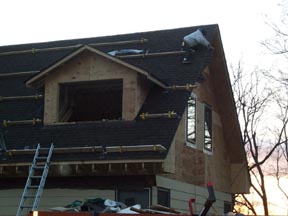 The roof was finished this week so we are dry !
Here's a couple of the roofers finishing up the job.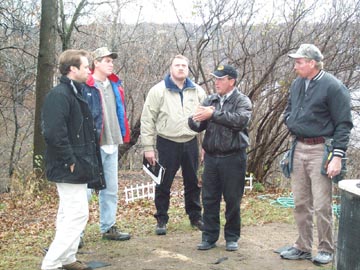 Check out the brain power figuring out the soffit and facia strategy.
From left to right are: Jim Graham (architect), Jeff (Cardinal Foreman), Lyle(Aero Supply),
Mike Campbell (Cardinal Remodeling), Rick (Rock and Roll carpenter).

Kitchen Windows - Before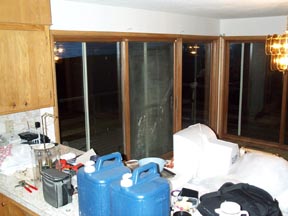 Kitchen Windows - After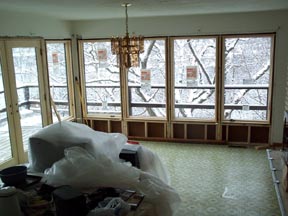 Livingroom Windows - Before and After
As you can imagine we are thrilled with the new windows and french doors in the kitchen.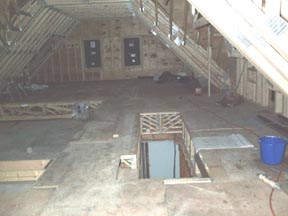 Here's where the stairs are cut into the second floor.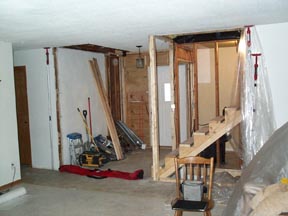 Here's the main entrance. There used to be a closet to the left which was demo'd and the
mudroom was behind the stairs. The area behind the stairs will become the main entry
closet, furnace duct work closet, and small mudroom.
Homepage
The Front
The Back
The Sides
The Floorplan
Misc Pics