Day 9 and 10
WATER, WATER, WATER. Please stop the rain! We had rain before and some leaks but with some work we kept it under control. But, it started raining the evening of 10/25 and continued through 10/26 and off and on 10/27.

In the middle of the night on 10/26 at 12:30 AM, Mike Campbell came out to tarp the entire house. He and I worked all night placing tarps over the roof trusses and mopping up water. He was the crazy one climbing on the wet roof trusses in the dark. What a nut!

In the house it was pretty bad, water was leaking in literally every room of the house and in the basement. We had buckets, pails, and trashcans everywhere. It dripped for 2 days.

I guess you should have a roof when it rains! :)

Luckily, the most damage occured in the ceiling area that is being removed. This is some of the risk you have to take when you remove your roof. However, we were not prepared for 3 days of rain. I don't think anyone could have been. The good news is everything is dry now and since we put tarps over the roof trusses we have not had any serious problems. The bad news is rain is expected on Sunday, Monday and Tuesday. Arghhh! Might have to learn how to work in the rain.

The Pics below show what did get done during days 9 and 10 in spite of the rain.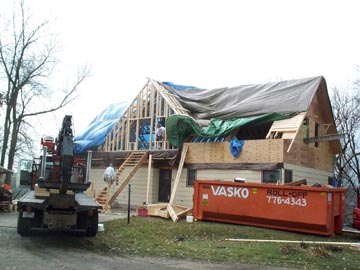 Here's our house partially tarped.
They are loading more plywood for the roof.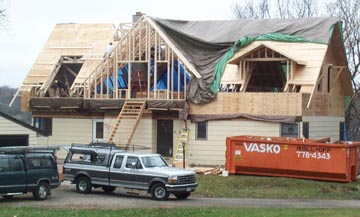 Here's the first bedroom dormer.
The house is really starting to take shape.
The other front dormer was completed too, but I didn't
get a picture before it was covered with the tarp.
Here's a shot underneath the tarps!
Homepage
The Front
The Back
The Sides
The Floorplan
Misc Pics